Related posts are the best way to keep your visitors stay for a long time on your blog. Since many are not familiar with adding related post scripts, this post will be covering a set of 12 related post plugins for the WordPress beginners. I have also included some related post plugins that makes thumbnailed related post. Hope this list could help WordPress beginners who are not much familiar with coding.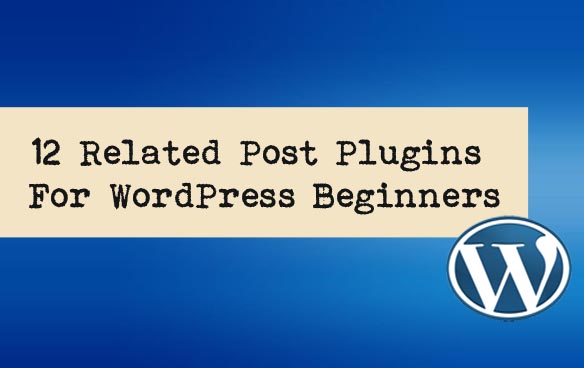 WordPress related post – WordPress Related Posts Plugin will generate a related posts via WordPress tags, and add the related posts to feed.
Yet Another Related Posts Plugin – Yet Another Related Posts Plugin (YARPP) gives you a list of posts and/or pages related to the current entry, introducing the reader to other relevant content on your site.
Contextual Related Post – Display a list of contextually related posts for the current post. You can select the number of posts to display and if you want to automatically display the related posts in your content / feed. Its my favorite too.
Related Posts by Category – This plugin provides a sidebar widget containing posts with the thumbnail and post excerpt (POST + THUMBNAIL + POST_EXCERPT) which are from same category.
Thumblated Related Post – Thumblated Related Posts is a very simple plugin to use.. It shows related posts for the post user is reading. It also add the first picture in post as thumbnail beside the related post. This helps in increasing page views.
Related Posts Thumbnails – This plugin will add related posts thumbnails after the post. Plugin allows to customize thumbnail sizes, display settings and type of relation. By default it uses generated by WordPress thumbnail for the first image appeared in the post, that was uploaded on the server with sizes as set in Media settings. You can select between 'thumbnail' and 'medium' size options. In addition if your theme supports Post Thumbnails feature introduced in WordPress 2.9 you can specify custom thumbnail size. You can also specify post custom field name to be used as thumbnails source.
Darren's Related Posts plugin – A very simple plugins that uses keyword to show related post. This plugin certainly helps if you don't want to display it by categories.
Microkid's Related Posts – This plugin makes it super easy to manually select related posts. You can search and select posts that fit your criteria, all from within the write/edit post screen.
Search Engine Related Posts – When someone is referred from a search engine like Google, the plugin show your blog content matched the terms they search for.
IGIT Related Posts With Thumb Image After Posts – The IGIT Related Posts With Thumb After Posts Plugin Automatically inserts one widget after posts having related posts. The related Posts showing by title and content matching, if it not show related posts by title content matching it will search related posts by matching tags and title and if still it is not showing any related posts then it will show random posts.The best thing about the plugin – its SEO friendly.
Related Posts by Category Widget – Small, lightweight (under 7k) widget that shows posts from the same category as the current post. Several options for customization along with numerous ordering criteria for posts. Displayed only on single post pages.
External Related Posts – External Related Posts takes either your post title, category or tags and searches Google Blog Search for related blogs. External Related Posts then adds a link to that blog to your post and pings them, letting them know you made a relevant post on their subject.