Hello bar is one of the best notification bar for WordPress and also for any web publishing platform. I really liked their concept and personally that inspired me to create Mintbar – an opensource notification bar. So, why am I writing about Hello Bar alternatives? Well, Hello Bar's free account offers just 25 click/month which I think is way too low for small blogs. Even their pro plans cost you $4.95/month with awesome features but still looking from a novice blogger's point of view, the pricing plan doesn't really work.
Now after the launch of Hello Bar many premium WordPress notification plugins are released which are actually affordable. So lets have a look at some of the best Hello Bar alternative WordPress notification plugins.
Note: None of these WordPress plugins, allow click tracking. If I am wrong correct me.
Related Resources:
5 Website Monitoring Tools To Monitor Downtime
12 Best Premium Responsive WordPress Themes
Footbar (Demo | Price: $14)
Footbar was one of my favorite alternative to Hello Bar. This premium plugin cost you $14 which is a one time payment and you get the best customization panel. Customizing colors, font size, shadows are never been this easy.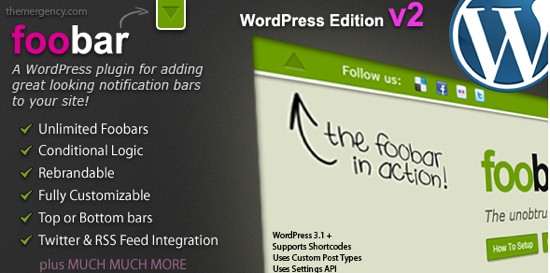 Watch the video demonstration of Footbar after this break.
attentionGrabber (Demo | Price: $12)
Even though Foobar was my favorite, attentionGrabber was too good in terms of design. The transition effect is so smooth and you can optionally add official Twitter and Facebook button next to the post link. So with regards to the backend and in terms of design attentionGrabber is the best.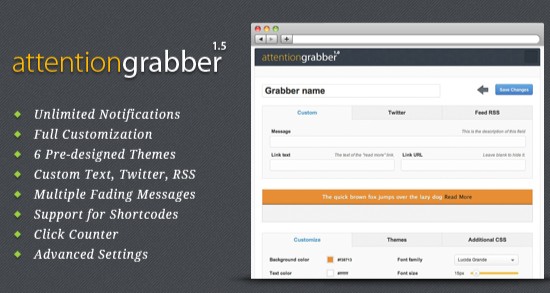 Check out the video demo after this line.
Notification Bar (Demo | Price: $12)
Notification bar is a decent notification WordPress plugin with cool color themes, cookies support and its compatible with all major browsers. Other than that, you can position and animate the bar.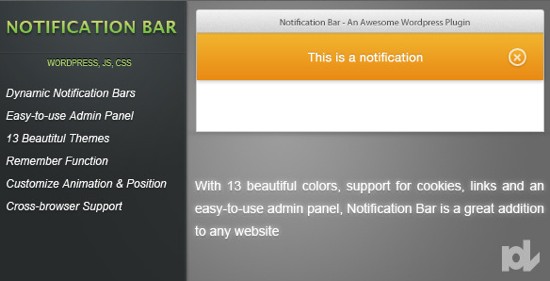 Sticky Header (Demo | Price: $4)
This isn't a WordPress plugin but you can easily embed it into any WordPress blog. Considering its price, its really affordable for the features offered. Click the demo link to read more about its features.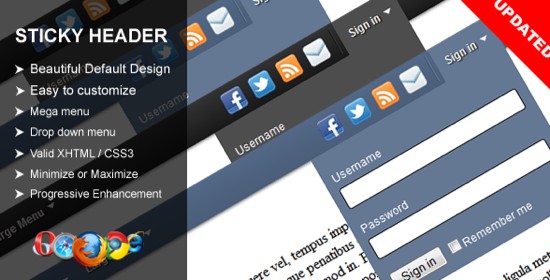 Realtime Announcements bar (Demo | Price: $9)
This is another PHP script that can be integrated into your WordPress blog for live announcements. According to the developers description "The Realtime Announcer is a php system that can be used inside your website to give you the ability to post news,notifications or announcements to your users But this time you can do that in RealTime!, which means that while the user is browsing your pages he can get the upto date news without having to reload the page."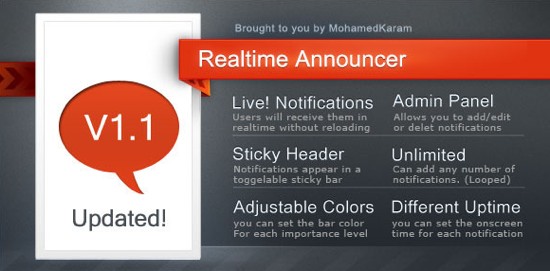 ViperBar (Demo | FREE)
ViperBar from ViperChill is a free alternative to Hello Bar. I haven't tried it on any of my blogs, but still looking at the AWeber, MailChimp and FeedBurner integration, its falls under the best free notification bar for WordPress.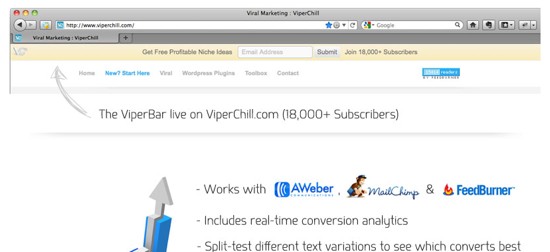 I hope this post is sufficient enough to pickup the best WordPress notification bar plugin that suits your style. If you think it's useful, hit share and follow us on our social media profiles.