Bloggers and social media enthusiast praise Pinterest as the new tool for generating traffic to blogs and websites. I never used Pinterest and I won't for some time now.
Pinterest is new, it's different, it's easy to use and they have so many good things to talk about here, however there's one thing everyone likes Pinterest and probably that's make it so unique. Your guess is right. Yes, it's their layout. There are more than 5-10 Pinterest styled themes for WordPress, but most of them sucks expect Pinboard – a super awesome and flexible theme from Themify.
Themify is owned by the famous web designer and developer – Nickla. People who are into blogging and web design, doesn't need a introduction about him. So let's move on and talk about the theme.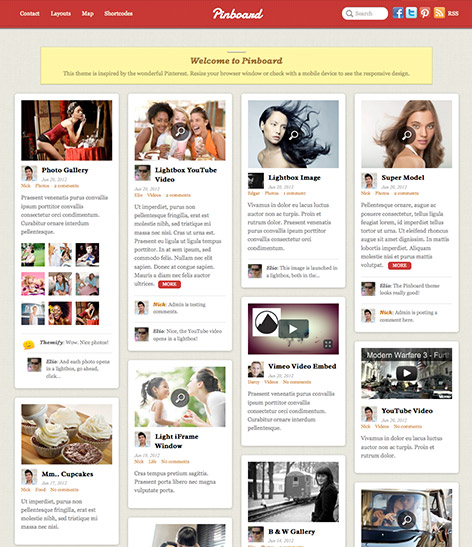 Why Pinboard?
Pinboard has the same gene of Pinterest to give the exact feel and look for the WordPress users. There are two things which I love about this theme – Infinite scrolling which means new posts are loading automatically when scrolled down and the responsive nature of the theme.
The theme also comes with 7 different skins which can picked from the admin. I should also talk a little about Themify's backend. Personally, I used many theme framework among those Themify's is one of the best. Editing css properties, images and fonts never been this easy.
For more about the theme framework click here
Pinboard Features
Responsive layout (view demo and resize browser window)
Auto stacking layout (like Pinterest.com)
Option to choose infinite scroll or numbered page navigation
Lightbox gallery
3 post layout options (small, medium, and large grid)
Custom welcome message
Recent comment list with commenter avatar on homepage
Custom header menu
Optional RSS and search form
Social media icons
Choose up to 4 footer widget columns
Custom footer text
Animated back to top button
7 theme skins
Coded with HTML5 & CSS3
Child theme support
The Pinboard theme cost $39 wih buy 1 get 1 offer. So literally you pay $39 for two themes. The total membership cost $69 which is a sensible smart if you own many WordPress blogs.