Electronic commerce, well known as Ecommerce is becoming the gold standard for retail shopping on the Internet these days. It has become so popular that there are so many sites that have popped up and some have become rage hits too.
Many have not only mimicked the global leader Amazon's business model, but even its success. I mean, they are huge in the society now, people are aware of the online shopping cart and they are starting to buy everything that is available on the Ecommerce sites. And not only that, the business is rapidly expanding thanks to the phenomenon called mobile internet.
Mobile internet in developing countries has far outnumbered traditional internet connections. All thanks to the burgeoning smartphone market share all over the world. People are rapidly accepting the value of these things called "Apps" which let them buy stuff on the go, with a very convenient way of payments too.
So, with ecommerce software flourishing, and mcommerce helping it move up, what is exactly the future? I personally think a way to create your own Ecommerce solution is a step in the right direction, because let us face it, selling online is the new in thing. Take for example, you have a clothing store and you are willing to sell them online. The first thing you need to do is set up an online shop using some platform.
And one of those solutions is >Izzonet. Izzonet is a ecommerce software solution in which one can create their own ecommerce store, set it up and be all ready for business. The guys at Izzonet claim that their solution is pretty easy for even non techies who have no forms of knowledge in ecommerce. But is the solution robust enough? We'll see now.
How to set up an Ecommerce store?
The homepage of Izzonet is a clean start, with rounded icons for a jump start ecommerce store. On the left, the side bar has deep extensive options to each and every component that you need to modify in your store. And on the top is the admin panel which manages everything related to the administrative part concerning mainly your profile. Here is a look at the start page –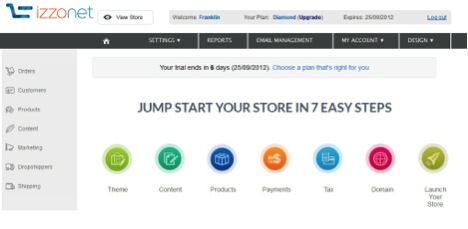 As you can see above, we are running on a trial. Yes, you have a 15 day free trial before you buy the product.
Without going into the details, I just want to show you how quickly you can setup the store with their jump start options. There are seven specifics that you need to take care of. First is the theme-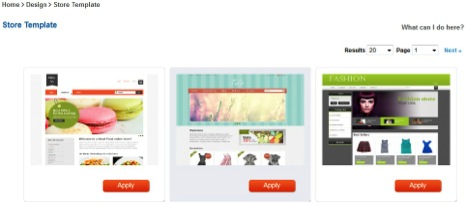 The theme takes care of the look and feel of the store. It has a LOT of templates that are designed in house and have enough variety that fits right into your store type. So, that's theme. Select one and you are good to go, for the next. Always remember that the options that you choose can always be changed on the homepage's sidebar, which I would like to call the expert bar.
Next is the content option –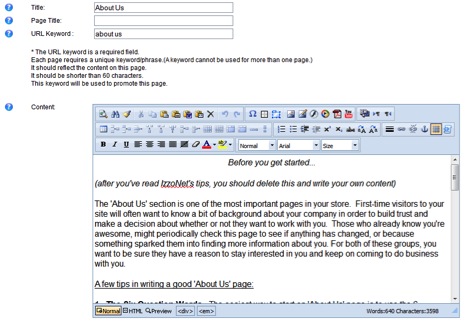 The content page is all about the content that appears on your store pages. Not the product items but the literature that you are going to et the public read about you or the store. Everything goes here. It's also interesting to see some SEO features baked in to the content page options, which I think all ecommerce folks will appreciate.

After you are done with the content, the next specific is Products –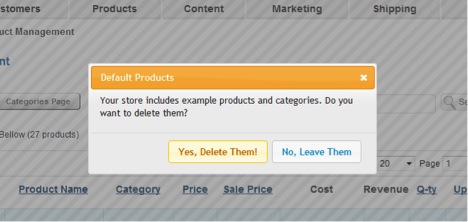 By default, like the screenshot above, it will have some example products that you can choose to keep for preview purposes or delete and add your own. I am going to keep them for review purposes.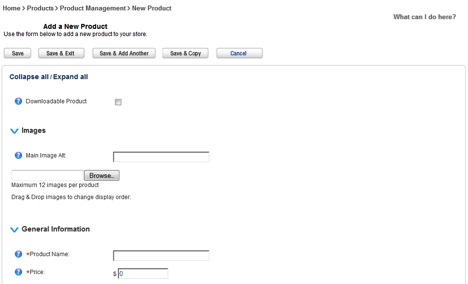 You can also add a product like the image above, and rest assured there is a LOT of options to customize and make your product available. But before you freak out, a special mention to the support team of theirs, who are available for a quick chat 24X7, and they promise to help when you are setting up your own store. To contact them, you just need to click the below icon on any page –

After you are done selecting the products, next is probably the most important step of all, payments –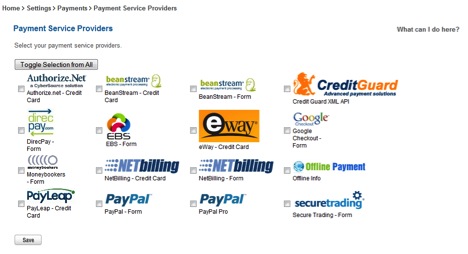 With the above options in payment, you can choose the medium through which you receive payments from your customers. Almost all kinds of payment are covered here, and even here, if you have any doubts, there is a lot of help available.
After configuring payments, the immediate next thing to do is setting up the tax specifics.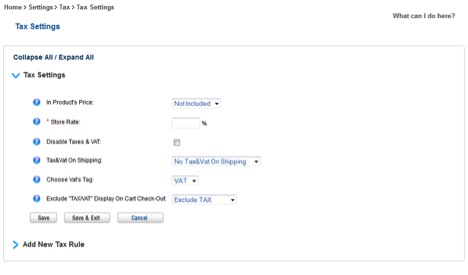 This is where you'll setup your region specific tax amounts, corresponding to the tax laws in your region. You are provided all kinds of default options in the first drop down and in case you want to deeply configure it or make a new rule for the taxes, you can do so, in the second drop down list.
And now, the penultimate step to setting up your own store is the domain.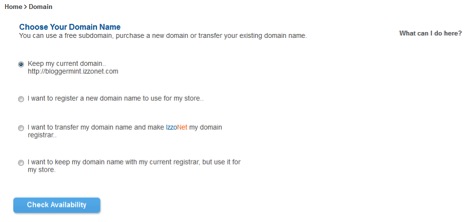 With the domain options, you can either choose to keep your own izzonet domain for free or your own domain, pre registered one that you bought earlier, with izzonet as the registrar or the same registrar as before.
And that's it! You are all set for your own ecommerce store that will definitely make your business thrive on the internet world. All you need to do is click the final icon – "Launch your store".
Concluding, I want to say that this is a good enough solution and has some extensive customisations, which I think, is, and should be appealing for all the aspiring folks who are looking at getting their own e commerce store.
If you had given it a try, let us know your experience in the comments section below.