WordPress has become the hub for all sort of Web Development. It started of with just blogs, now WordPress directory theme, business theme, etc. I myself witnessed the growth of WordPress in the last couple of years. Since the number of people who surf online have increased drastically, making money online has got a lot of attention among webmasters.
In this post, lets talk about WordPress directory themes and plugins. Directories are generally preferred for finding information under one roof. The days of using Yellow pages is almost over. So here are my top picks WordPress directory themes and plugins.
Vantage is a business directory WordPress theme from AppThemes – a well-known company for creating concept based themes. With Vantage, customers can list their businesses by adding the information. The featured listing option in Vantage can be used for promoting certain listing. Easy to install, great support and reasonable price makes it to the top of must see directory themes.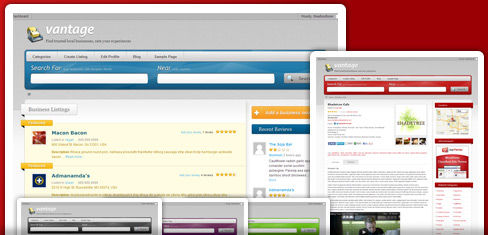 DirectoryPress – (Live Demo)
Compared to Vantage, PremiumPress has a completely different layout with a different approach to directory themes. The theme has five different slides and a thumbnail slide to highlight you're favourite pick.
Theme Features
Free/Paid Membership Packages
Affiliate Links & Link Cloaking
Integrated Payment Gateways
Website Designer Tool

Directory Plugin – (Live Demo)
With Directory Plugin, one can change a WordPress blog into a online directory site without the need of spending much time on customising themes. The plugin also includes payment gateways for accepting payments for listing a business. Plus stunning theme to make it a perfect online directory.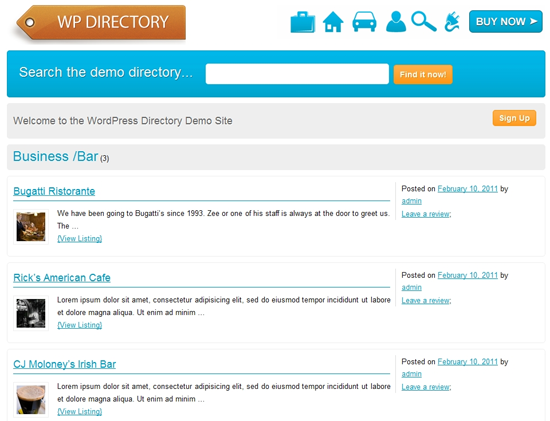 Listings is a heavily customised WordPress directory theme from WooThemes. The biggest advantage of using Listings is it's advance search. Also the theme is built on WooFramework – an advance WordPress framework with easy to customise options.