WordPress security has became an hot topic with alarming rise in malware on blogs and websites. WordPress being the popular blogging platform, most of WordPress users are not tech savvy. Even for web developer like me, it's impossible to keep our blog from people who are trying to hack the site. The most targeted niche is tech news blogs considering their popularity and too much competition. Nothing is completely hack proof, however you can protect your blog to certain extent from attacks.
Frankly I'm not an expert security guy and with increase in traffic it's my duty to keep my blog accessible to my readers all the time and hence I decided to buy Sucuri. If you haven't heard about Sucuri – It is a very popular web security tool that works for most of the well known CMS and HTML sites.
Before signing up for Premium website package, I had no idea about their service and how good they are at fixing issue in a short period of time. Normally popular services like these takes a minimum of 24 hrs to respond. So these are my initial reaction before buying Sucuri.
Why Sucuri
A lot of people might think, why should I spend $89/year on a security tool. Let me tell you this, Sucuri not just offers manual scanning and server scanning tool; they do have security experts responding to your emails in less than 2 hrs*. I had a long conversation with Sucuri's security experts for blacklist removal and some issues for Avast Antivirus users. For $89/year you get the best service which I guarantee you can't see anywhere in the web. More than money it's about peace of mind.
Sucuri supported platforms: WordPress, Joomla, Drupal, OSCommerce, vBulletin, phpBB, Microsoft .NET and HTML.
Why I Bought Sucuri
The reason why I bought Sucuri was because Siteadvisor has blacklisted Bloggermint for some unknown reasons. I tried contacting Siteadvisor but their response wasn't that fast and thus I ended up buying Sucuri. I will write a detailed post about my experience with Suruci as soon as possible. So lets focus on how to protect your blog / website using Sucuri.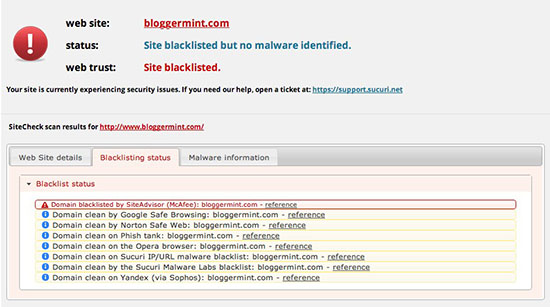 How to Scan your blog for Malware
Most webmasters aren't aware of malware present on their blog until Google blocks their site. If your site is accessible on Google, don't be too happy. Some malware alerts are shown on few antivirus and services like Siteadvisor blacklist your site and that's what happened with me.
Step 1: Use Sucuri's web scanner and check if your blog is free from threats. If the scanners says Status: Verified clean your safe. However I would recommend you to check your site with VirusTotal for quick detection of viruses, trojans and all kinds of malware.
If you got a red alert, select an appropriate package from Sucuri and buy it as soon as you can. The packages offered by Sucuri is very reason and the pricing are for yearly basis. All packages comes with unlimited malware cleanup, manual website scanning, blacklist removal, server monitoring.
Step 2: After signing up for Sucuri, add your website under Account Management > Manage Sites (add/remove), select the monitoring type Malware + Blacklist and click Add Website.
Step 3: Now navigate to "Malware Removal Request" under Support.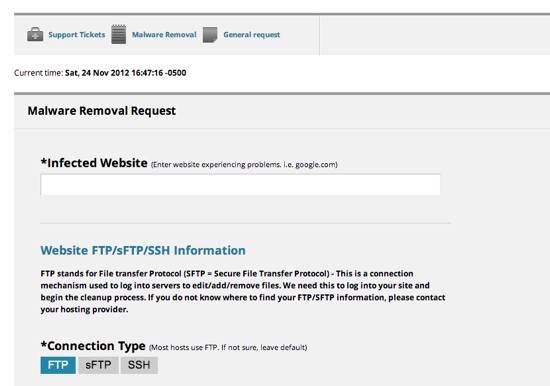 After filling the form, wait for an hour or two to let Sucuri team fix the issues and once they are done you will be getting a response which talks about what went wrong with your site.
Step 4: Suruci also offers Server Side Scanning. Add your server details to start scanning the server for possible exploits.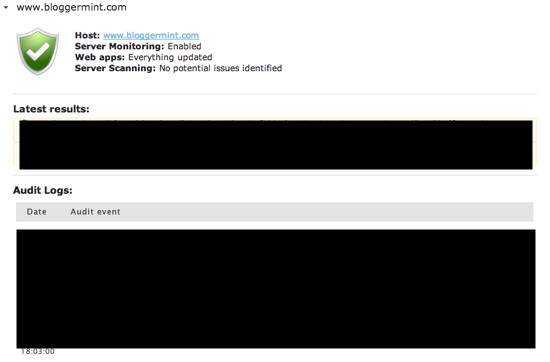 Extra Features for WordPress users
WordPress users can make the best out of Sucuri by installing Sucuri's WP plugin that can be downloaded from WordPress tab on the dashboard. This plugin works only for registered account with Sucuri.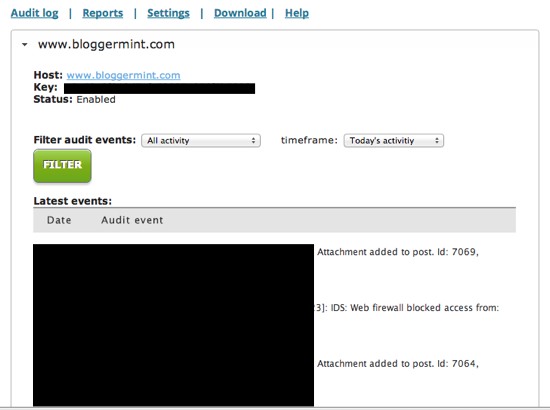 If you're still not satisfied with Sucuri's features, contact me here. I would love to explain more about its benefits.