Have you ever thought of setting up your own online store to sell stuffs without worrying about complicated management procedures and setting up difficulties? If you have so, then I have some great news for you that you can actually create you online store using WordPress, and I am telling you that WordPress is easy to manage.
Long gone are the days when WordPress was used only for creating blogs, and now you can have a great website even an awesome online store using WordPress. However, when it comes to make your store stand out from the rest, you surely need an awesome theme for it.
To make your job easy in finding a suitable theme for your store, I have compiled a list of 20 great themes that will transform your online store built using WordPress into a beautiful store. You might need to install WooCommerce before installing some of the themes mentioned here,
eStore – (Demo)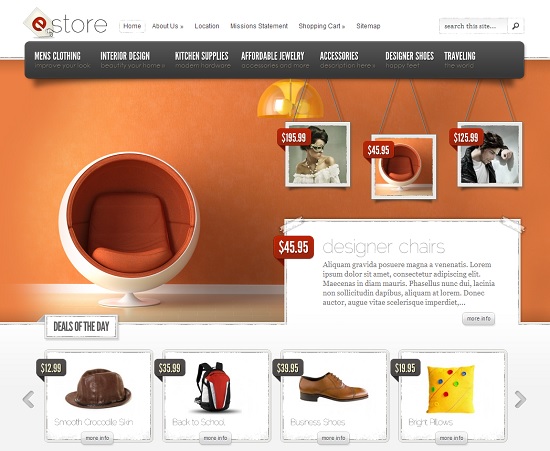 eStore is an awesome theme from Elegant Themes, which will transform your WordPress site into a beautiful looking online store, which is easy to manage from the back end. It features an unique slider for displaying your best products in a style.
Simplicity – (Demo)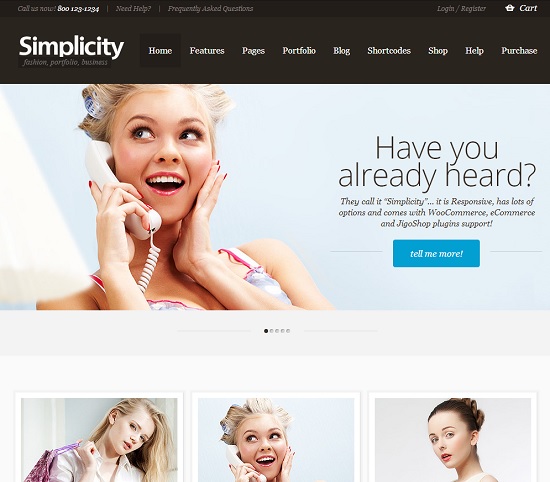 Simplicity is another premium theme that turns your WordPress installation into an online store. This theme is simple, yet fully responsive, which means people will see your store beautiful no matter which device they use for accessing your site.
Replete – (Demo)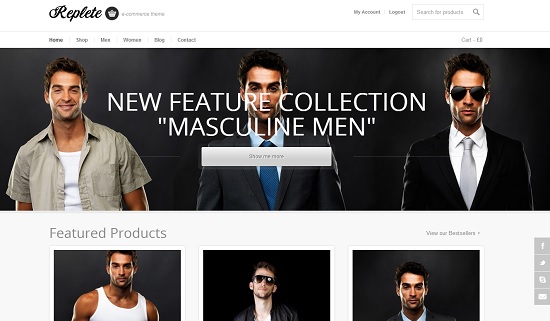 Replete takes your store to another level, with a sleek and fully responsive design, which gives a cutting-edge look to your online store using the giant slider, and advanced hover effects.
eMarket – (Demo)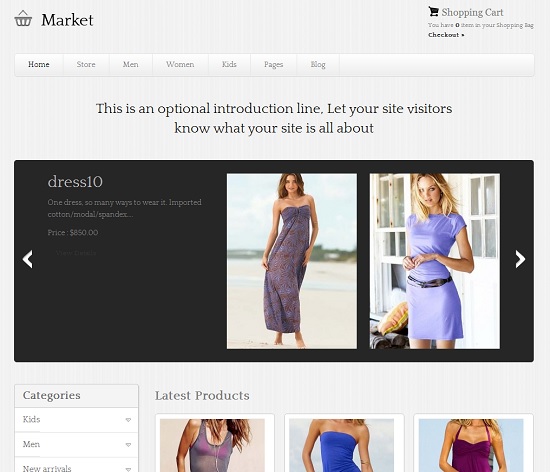 eMarket is a theme by Templatic, which creates a simple yet powerful online store for you. If you are looking to set up a simple looking online store without much advanced effects then you can go for this theme.
StoreBox – (Demo)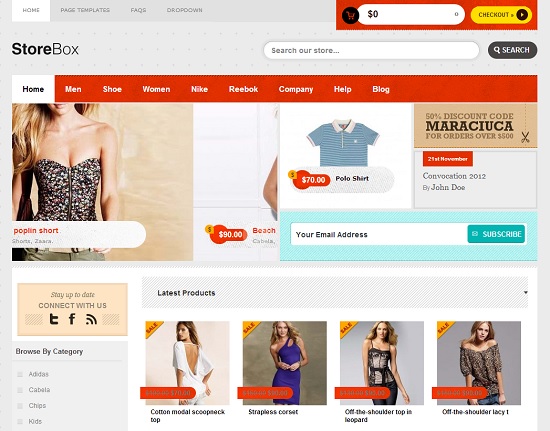 StoreBox is another excellent looking premium theme from Templatic, which takes your store to a new level, by setting up advanced slider options and display features.
Boutique – (Demo)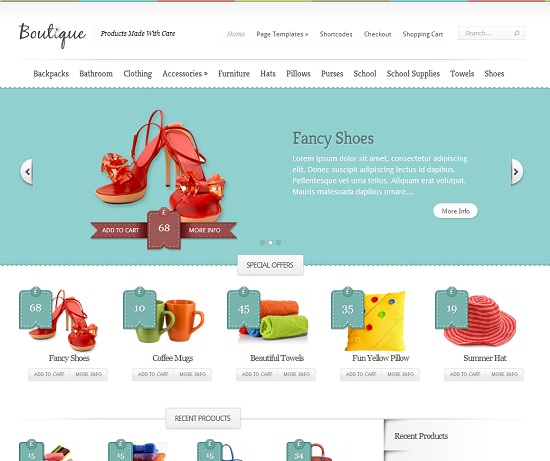 Boutique is another beautiful premium theme from Elegant Themes, which is meant for you if you want to set up a fancy online store, with elegant design. Like the name suggests, if you want you set up your own online boutique, then this is the theme for you.
CoolCart – (Demo)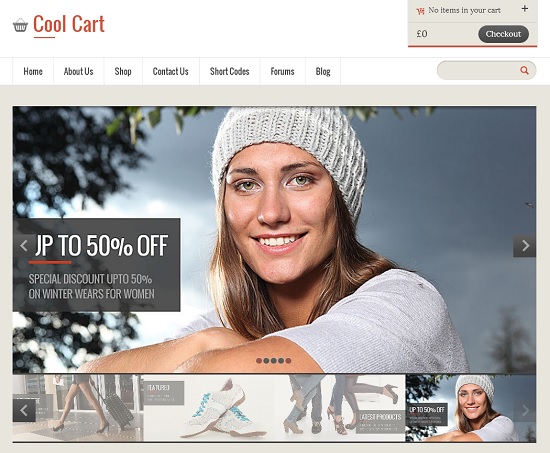 CoolCart gives a new style to your online store by adding a small Cart widget on top of your site, which can be seen on many online stores. This theme is also very simple and elegant, leaving a professional touch to your site.
Lorem and Ipsum – (Demo)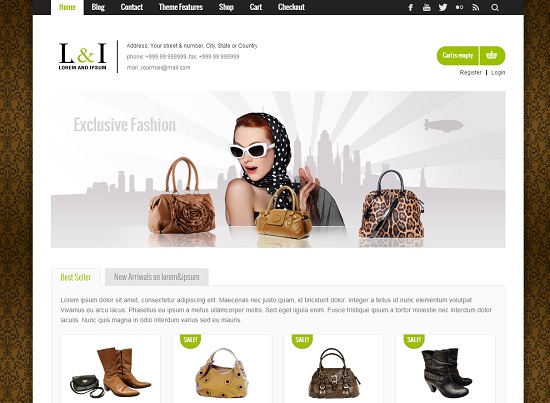 Lorem and Ipsum is a cool theme that features a simple design, with a decorative background to make your store look different from the conventional white background.
Toledo – (Demo)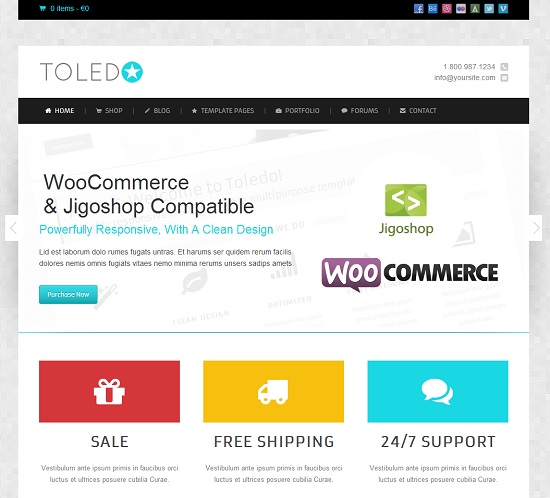 Toledo is an elegant theme for setting up a clean looking online store with spaces for displaying additional features of the store like "Sale" or "Free Shipping", as seen in the above image.
Mercor – (Demo)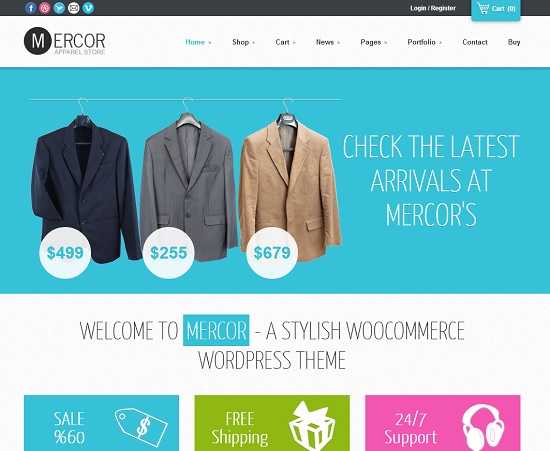 Mercor is a cool and stylish eCommerce theme which makes your online store look amazing with minimal effects. If you want a simple yet stylish online store then go for this theme.
MayaShop – (Demo)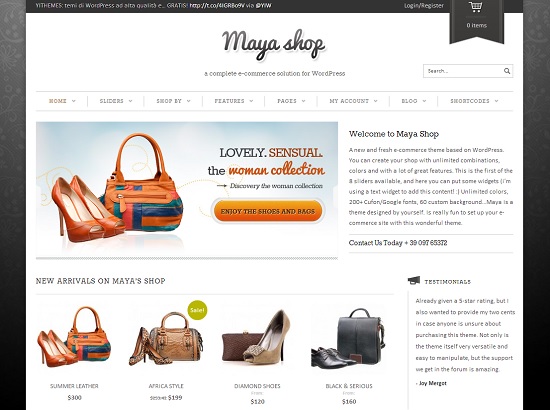 MayaShop is a good looking theme for an online store, with a nicely designed background to make the design much more appealing.
Enfinity – (Demo)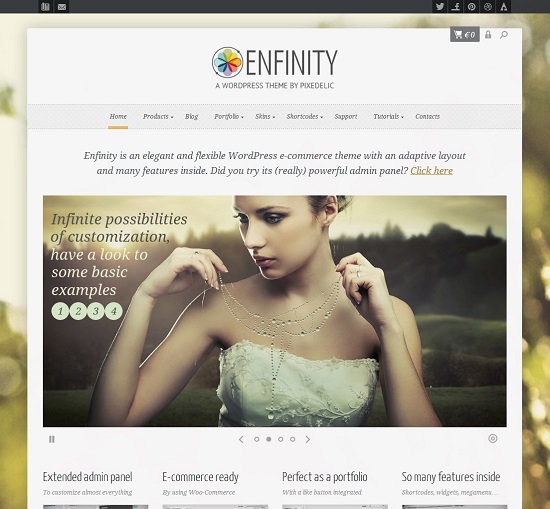 Enfinity is a theme that just stands out from the rest, with its beautiful design and super-cool slider. The background picture also sets the mood and defines the style. This is a nicely designed theme for stores of all types.
Cherry – (Demo)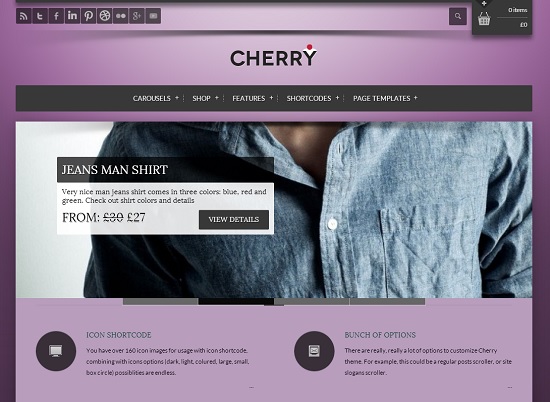 Cherry is a colourful theme, which is nicely designed to give your online store a good look. This theme also has a unique slider that grabs attention of the visitors.
Kinetico – (Demo)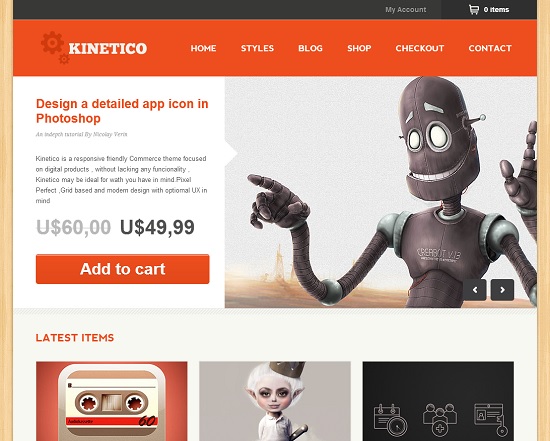 Kinetico is a sleek looking theme with good colour combination and beautiful design, which gives your online store an awesome look.
Handmade – (Demo)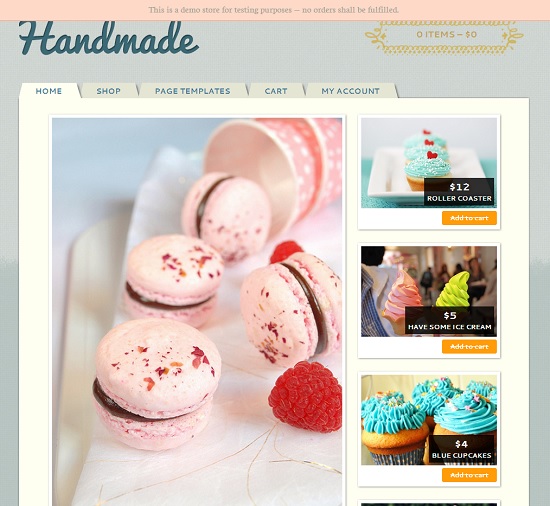 Handmade as the name suggests, looks like a theme which is hand drawn and crafted to match your style. This theme is a unique layout with tabbed pages, a perfect theme for a bakery or something like that.
Child Care – (Demo)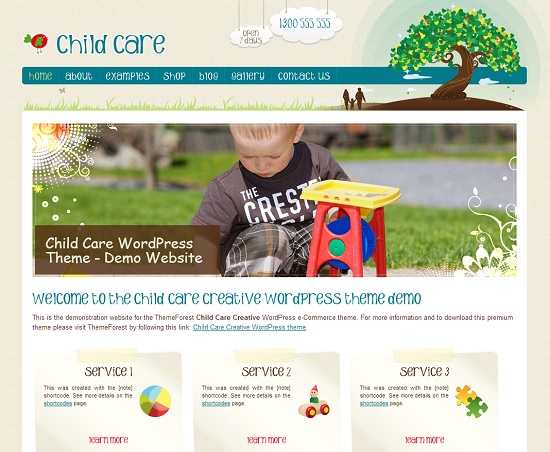 Child Care is a cool theme for setting up an online store for baby and kids products like toys, and other baby products. This theme has the look and feel of a baby shop, and is thus perfect for the purpose.
ShopPress – (Demo)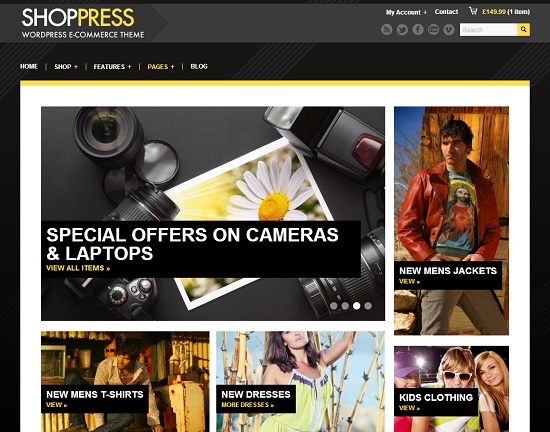 Xing – (Demo)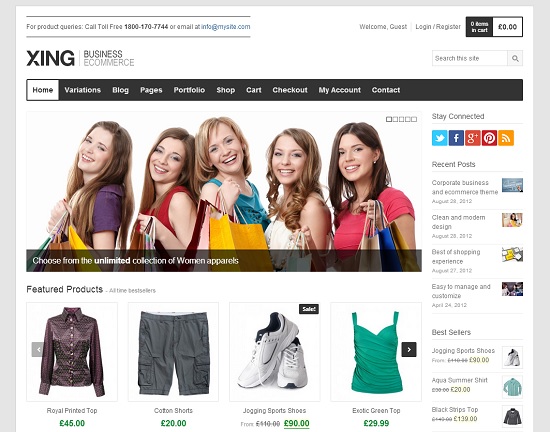 Xing is great theme for setting up a simple looking yet powerful online store. This theme mainly focuses on a simple design, so if you want to have a simple design for your store, you might want to check this out.
Blanco – (Demo)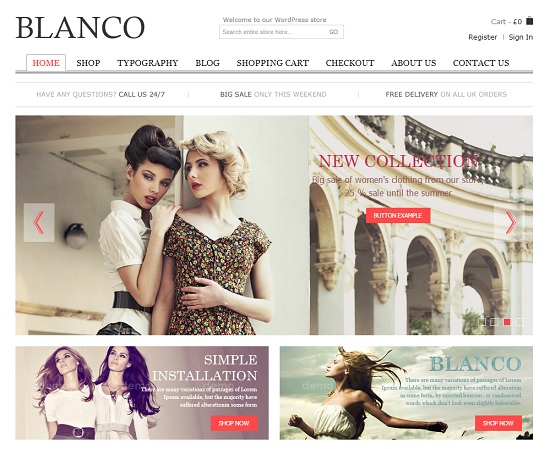 Blanco is another simple and clean looking theme for an eCommerce WordPress site, which not only looks beautiful but also appealing to the visitors.
Selene – (Demo)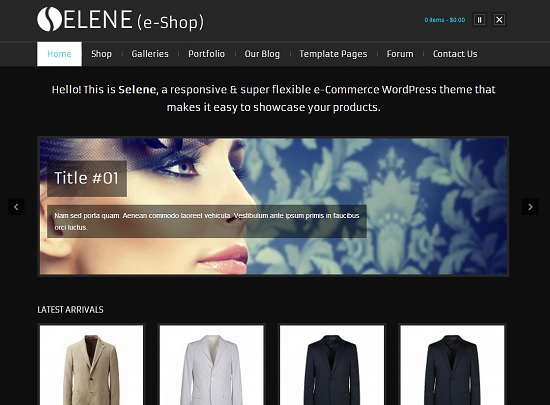 Selene is a theme, which is based on a dark design, for sites which focus on a dark look. This theme is also nicely designed on a dark background, to give your site a great appeal.
This brings me to the end of the list and I hope that you will find these above mentioned theme useful for setting up your own online store using WordPress. Do let me know your views via comments.
Author Bio: Rahul Chowdhury is a Blogger at dapazze Blog, where he gives collection of themes and plugins for WordPress. You can check out this list of WordPress eCommerce plugins for setting up your online store.