It's just been 2+ months since Thesis 2.0 released to Public. A lot of people rant about thesis theme, when it was first came out. Now finally people have started liking & using the framework. Currently there are not many resources available for 2.0 but developers like Alex Mangini, Hesham Zebdia, Franklin Manuel and Matt Hodder are working incredibly hard and it won't be long before you will a lot of awesome child themes & boxes.
Thesis 2.0 is a premium drag & drop theme framework that lets you build skins from the front-end.
Today I would like to share 5 must have boxes for Thesis 2.0
Also Read:
5 Amazing Thesis Skins You Should Give A Try
1. Social Sharing Box
Created by – Franklin Manuel // Cost – Free
The social sharing box is a great plugin for people looking to add a nice social media sharing box at the bottom of the page. If you want to add social media buttons at the bottom of your single page without touching any code, then this thesis box is for you. It only adds the social media buttons at the bottom of single page.
2. Category Posts Slider
Created by – Matt Hodder // Cost – Free

A simple posts slider plugin that you can use anywhere in your layouts to showcase your most recent blog posts. The box comes with a great set of features and supports post images.
3. WordPress SEO Plugin Integrator
Created by – Serge Liatko // Cost – $2

I have been using thesis theme for 18+ months and never felt a need of SEO plugin. Though, I do use WordPress SEO plugin on all my blogs that are not running on thesis. I see no issue with using the built-in SEO for WordPress, but still many people want to use Yoast's SEO plugin.
Serge from ThesisTut has developed a great box – a WordPress SEO integerator for Thesis 2.0
4. Sliding Optin Form
Created by – Hesham Zebdia // cost – Free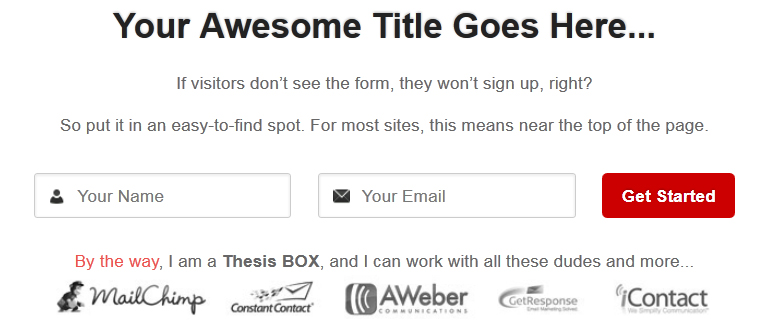 If you have spent some time in blogosphere, then you should know the importance of having a well designed & well placed optin form. Well, here comes a great sliding box designed by Hesham Zebdia. A simple well designed jQuery slide down & up, optin form.
To show this beautiful sliding optin form, drag & put it in an easy-to-find spot. For most sites, this means near the top of the page.
5. Author Box
Created by – Hesham Zebdia // cost – Free

You know having an author box is a must, if you're running a multi author blog like BloggerMint or FamousBloggers. By default thesis 2.0 doesn come with an author unlike Genesis or other premium themes. Elegant Author box adds an author info Box with social profiles, website link and more. Display it anywhere using Thesis Skin Editor!
Have you tried any of these thesis boxes?
If you want to learn more about thesis theme, than check out my Thesis 2.0 Theme review.