Coupon code business is growing every year and we all love discounts from these coupon codes. If you had an idea of creating a coupon site and failed to do, I'm telling you it's much simpler than you expect with WordPress. With WordPress coupon themes you can literally start a coupon site in less than a hour and I really mean it.
Existing WordPress blogs can utlize these themes and plugins by installing it in a sub-directory; doing this way you can attract your existing blog traffic to the coupon section.
WordPress theme providers like AppThemes and PremiumPress does a good job in creating application based theme. I would totally recommended all you check them out. Some of the themes and plugins requested here are premium.
Clipper – (Demo)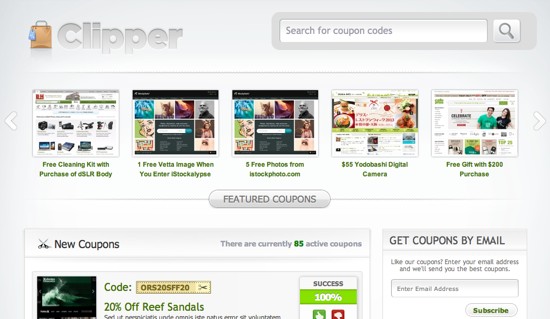 Clipper is the leading coupon application theme built for WordPress. Our feature-rich theme was designed for ease-of-use and tight integration with WordPress so you'll be online and providing coupons within minutes.
CouponPress – (Demo)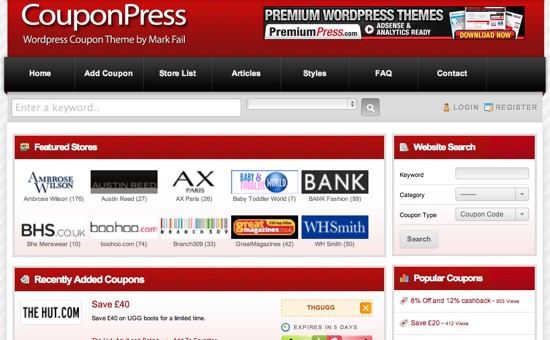 CouponPress turns WordPress into a powerful coupon website helping you earn affiliate commission through coupon codes, vouchers, printable coupons and deals.
WordPress Coupon Plugins
WP Coupon – (Demo)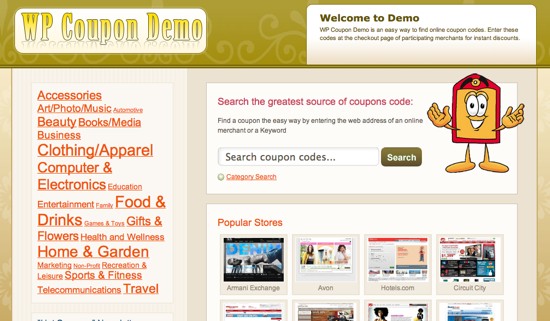 WP Coupon turns WordPress into a powerful coupon site, allowing you to easily create user-submitted coupon sites on virtually any niche – books, travel, hosting, and more! Use it to run a complete affiliate coupon site, or add coupons to your existing website or blog. Bundled with a complete affiliate link management system!
DRP Coupon – (Demo)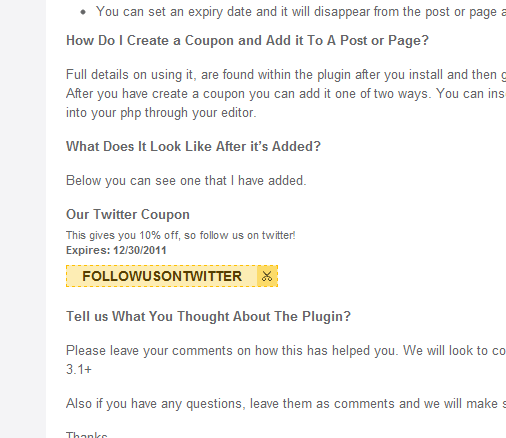 DRP Coupon is a WordPress Coupon Plugin which Allows You To Add Coupons that Expire To Your Posts and Pages. You can set your coupons to expire at the end of a certain date and they will disappear from your post or page or display a custom message like "no longer available". Add a regular link or an affiliate link from which the coupon will go to when clicked. A person cannot copy the code unless they click on the link. Once clicked it will copy the coupon code to the clipboard ready for easy pasting.
Compatible up to WP 3.3.2
Free | Download
Coupon Creator – (Demo)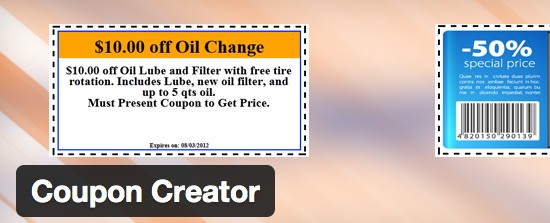 Create a coupon by going to the coupon custom post type and filling in all the settings in the custom meta box. Insert the coupon into a post or page using a shortcode. Plugin includes a coupon inserter into WordPress Editor for easy use.
Free | Download
Coupon Store – (Demo)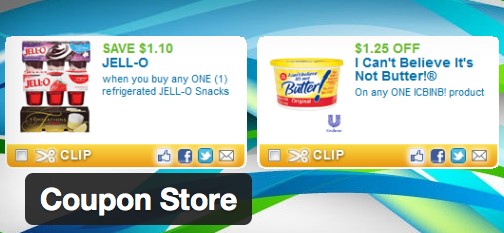 Coupon Store is a WordPress plugin that provides shortcodes to allow you to embed coupon stores into your blog. Current stores available are Coupon Network, Redplum, and SmartSource. Due to the lack to WordPress 3.5.1 I recommend you to try it at your own risk.
Free | Download