It's been a long gap since we posted our last giveaway and from now on, I make sure one giveaway a week on Bloggermint. Thanks to ManageWP to be kind enough to sponsor 3 professional 10 sites yearly plan worth $226 each. People who are into blogging must have heard about ManageWP – A tool to manage all of your WordPress sites from a single admin.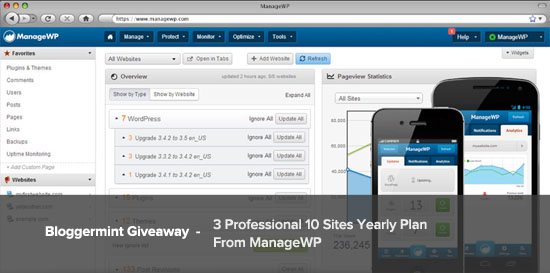 ManageWP is an one stop shop for managing WordPress sites. Let me tell you why.
To my knowledge it is the only tool which gives full access to manage all your WordPress sites from one dashboard and that makes ManageWP so special among other competitors. I personally never used it since I manage just one WordPress blog and that's Bloggermint, however most of clients have an account with ManageWP to monitor their WordPress blogs. And that's how I started using ManageWP.
I will write a detailed review about ManageWP in a couple of week, till then take a look at their site. Also I recommend all WordPress site owners to try their 14 days FREE TRIAL program to try all their paid features. Click the button below to get started.
ManageWP Giveaway rules
Follow and do all the requirements mentioned in the contest widget. Missing one single requirement might void you're entry. Winners will be contacted via their email address associated with Facebook by ManageWP itself, so make sure that you check that email account often. And mostly importantly don't leave a one line comment. Thanks!
Update: Winners will be selected on July 30th 2013. Watch this space tomorrow for the winners list.
Best of luck!