Testing a WordPress theme without activating it not only save the time but also the avoid the risk of disrupting users. The most common practice for testing a theme is by creating a clone site or a demo to test a new WordPress theme, however it is not the easiest and the hassle free technique for WordPress beginners. In this post I'm going to talk about how to test WordPress theme without having any impact on the live site.
Theme Test Drive is a WordPress plugin with which an administrator can safely test a new theme, while the users see the default theme. This is a new plugin, it's been around for more than 3 yrs, sadly not all of us know it.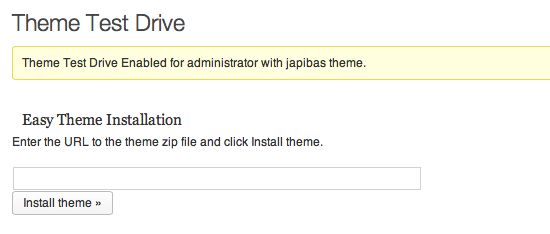 Before getting into this topic, I would like to talk about finding the best WordPress theme for your blog. The first question that comes in our mind is – Where to find the best WordPress theme? The answer is simple. Premium theme marketplaces like Themeforest, MojoThemes, ThemeFuse, Themify and WooThemes offers thousands of premium WordPress themes at an affordable price. Search by category and pick the one that best suits for your blog niche.
How to test WordPress themes without activating it
Step 1: Download the Test Theme Drive plugin and install in on your blog.
Step 2: After activating, go to Appearance > Theme Test Drive.
Step 3: Add the theme zip url and click Install Theme or select the drop down box under usage to test with the existing themes installed.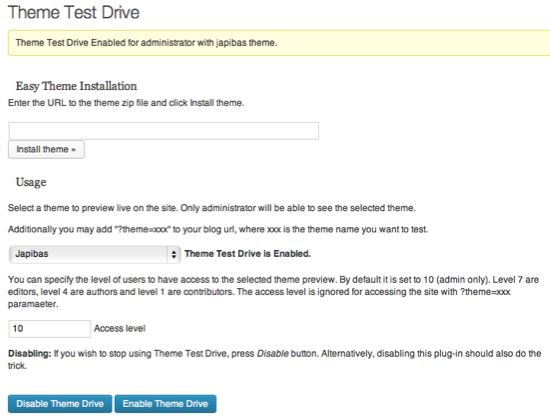 Step 4: In order to test WordPress theme in the theme directory, select any theme from the drop down box and click "Enable Theme Drive". Optionally you can set the access level to 10 for the admin only access to test drive.
To see it in action – Type your blog name – "www.yourblog.com/?theme=twentyten".
Hope it's an easy technique to test WordPress themes without activating it.
If you find this post helpful, share it on Facebook and Twitter.