Skype is the best software to make free voice and video calls worldwide. Over the past few years the growth of IM softwares is phenomenal. It is a must have tool for web designer, web developer and bloggers to easily connect with their clients from any part of the world for free. Online video conferencing is a big deal for people like me to connect with more than one person and discuss about project related questions. All this is possible with Skype.
In this post I'm going to talk about displaying your Skype online status on your WordPress blog. There's no official Skype WordPress plugin, however there an unofficial WordPress plugin called Skype Master which have all the options to easily add Skype online status to your post and as a widget.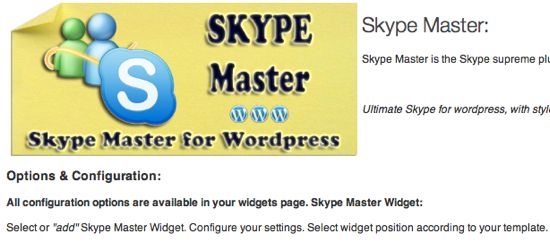 Install Skype WordPress Plugin
Step 1: Download the plugin from WordPress plugin directory by clicking the link here
Step 2: Install the plugin using WordPress admin or via FTP
Step 3. After activating the plugin, you can find the plugin options under Settings > Skype Master.
The free Skype Master plugin comes as a lite version, whereas the advanced version comes with more styles and options at a price of $25.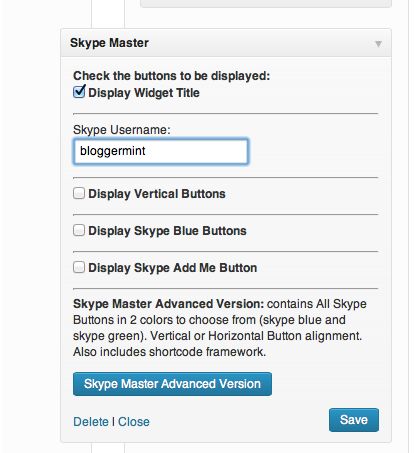 The shortcode feature is limited to "Advanced" version. With shortcodes one can easily add Skype online status button to any blog posts.
LITE Version Contains:
Display or hide Widget Title
Skype Add Me Button
2 Button Colors (skype blue and skype green)
Vertical or Horizontal Button Display
ADVANCED Version Contains:
Selectable Button Display
Skype Online User Status Button
Skype Call Me Button
Skype Chat with Me Button
Skype Add Me Button
Skype View My Profile Button
Skype Leave me VoiceMail
Skype Send Me a File
2 Button Colors (skype blue and skype green)
Vertical or Horizontal Button Display
Shortcode Framework. Display buttons inside wordpress pages or posts
Display or hide Wdget Title
If you have any issues with the plugin, contact the plugin developer here