If you search for the best form builder plugin in Google most of the results claim to be the best in business. Some of them will provide the service for free of cost with very limited number of options and ask you to be their monthly paid subscribers to enjoy the full version of their tool. Here comes the Gravity Forms plugin that can create flexible and secure forms for wordpress blog at affordable price.
Gravity form is a full features premium form creation and management plugin for wordpress, its user friendly dashboard and in built tool allows you to select fields, configure your options and embed forms on your wordpress blog easily with no coding knowledge required.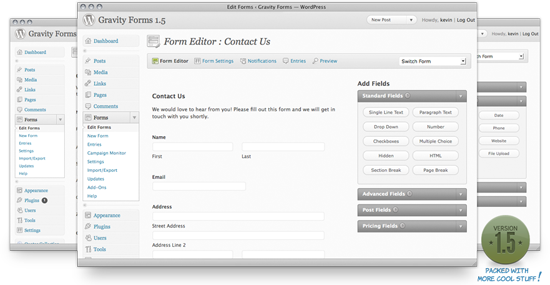 Gravity form features
It has a varietly of features includes form managements, create form fields, conditional logic, entry managaments,
notifications, customaization style & layouts and easy wordpress integration. The other major features are,
Import & export form overall performance have been added in new version.
Gravity forms widget added a method for the email notifications to disable auto
formatting of paragraphs.
It adds support for conditional form fields. What this means is you
are able to show or hide a field or entire parts of the form depending on a value
selected in another field.
This wordpress plugin has improved the post custom fields to allow you to
select from various field types.
Every elements in gravity forms is given a unique class name and ID so
you can easily customize gravity forms using CSS.
It has a variety for pre generated form fields like standard, advanced,
post and pricing fields that makes easy to add inputs fields in a click.
Main advantage of using this plugin is it can be eaily integrated to wordpress by downoading and
installing gravity forms plugins and addons.
Easy email notofication to the admin when any users fill out the form so you can quicly
respond to user or you can create a general auto-responder thanking note to all whoever submitted.
It also works with ustin Tadlock's Members plugin for role management.
To know more about its features, try this Demo version.
demo – http://www.gravityforms.com/demo/
Buy Gravity Forms plugins at discount price, an exclusive offer for Bloggermint readers.
GFDEV50 – 199 149.25 SAVE 49.75 get 26% off
SEODENVER – 199 159.00 SAVE 39.80 get 20% off
Click here to BUY NOW
This is a guest post by Ron Davis. He is a freelance blogger and a passionate social media marketer. Follow him on Twitter @AskRondavis