Someone asked me one time. What was the point of a sales letter for promoting a product or service. For those who don't know, a sales letter is a highly specialized form of ad copy that is there to guide the person or visitor that comes to a product/service page to purchase.
Very similar to say to a TV Commercial, Magazine Ad for a Product, or a Cable channel devoted to selling products. Alright, so how to create a sales letter or sales page that can bring sales? Well, the answer is simple. WordPress sales page themes are so popular these days which will eventually change a normal WordPress blog to a super charged sales page. If you don't know the basics of WordPress visit WordPress Classroom to learn WordPress in just 10 days. Enough of talking about the importance of sales page and find out here the best 7 sales page WordPress themes.
Also Read:
14 Most Useful WordPress Plugins For Internet Marketers
OptinBar Review – A New Way To Get More Subscribers And Leads
Optimize Press (Demo)
OptimizePress has been designed to make everything super easy. This includes integrating with your chosen autoresponder, which can usually be a real pain. Simply copy and paste the main form code your autoresponder provider gives you into OptimizePress, and our system will do the rest, including integrating the form with our custom styled input boxes and your optin button!

Why OptimizePress?
One of the best landing page WordPress theme in the market
Good support
Easy to under dashboard
Video tutorials
Price: $97
Premise (Demo)
Premise empowers you to quickly and easily build custom, graphically-enhanced landing pages without cost, code,or hassle. Plus, copywriting advice is delivered directly into WordPress for each landing page type.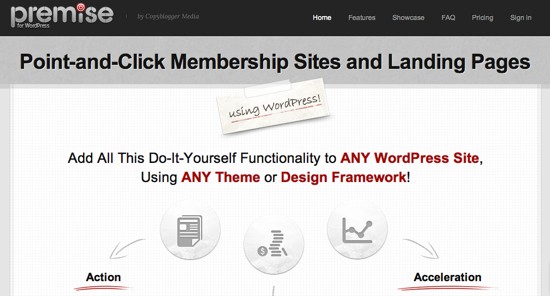 Why Premise?
Premise is a product of CopyBlogger. The same team who created Genesis framework.
Includes membership feature. So you won't need to buy any WordPress membership plugin.
East to use
Good support.
Price: $165 (Membership gateways & Unlimited sites)
Squeeze Theme (Demo)
Sales Page Theme now makes it simple and SUPER FAST to create and setup sales pages. There is no reason why you can't crank pages out all day long, send tons of traffic, and make tons of new sales for your launch or promotion.

Why Squeezetheme?
Affordable price with just $97 for unlimited site
The 14-Week eCourse About Online Moneymaking
Resource center
Price: $97
Flex Squeeze (Demo)
FlexSqueeze is the ultimate WordPress theme for creating custom niche sites and sales pages. With over 250 theme options, it's incredibly easy to create one-of-a-kind sites.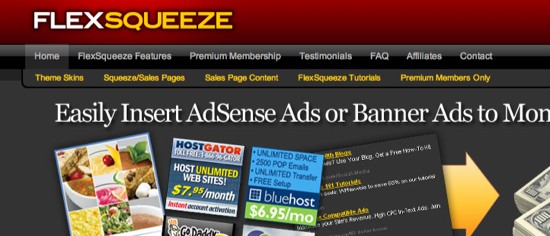 Why FlexSqueeze?
Access to Over 250 Sales Page Graphics
Includes 12 Built-in Sales Pages
Video Opt-in Pages (only for FlexSqueeze members)
Price: $127
Pro Affiliate Theme (Demo)
Easily create professional and high converting affiliate review sites, squeeze pages, sales letters and so much more! Personally Pro Affiliate is one of my favorite landing page WordPress theme which is easy to configure with drag and drop.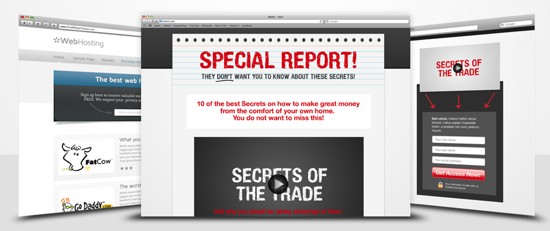 Why Pro Affiliate?
Create your sites with our Revolutionary Drag 'n Drop System!
Built by Experienced Marketers
Custom Lead Management System
Opt-In Pop-Up Box
Price: $99
Convertible Landing Page (Demo)
Convertible is a new take on the classic sales page. Landing pages are useful for marketers who have a single product to sell and need to create a page to pitch it to their visitors. A landing page needs to be versatile and customizable, which is why we devised an entirely new way of managing your pages. Convertible includes a custom Drag and Drop page builder that allows you to completely customize your landing page without ever having to touch a line of code.
You can purchase all Elegant themes for just $39.

Why Convertible Landing Page?
Theme Options
Page Custom thumbnail images
PSD filesValid XHTML + CSS
Smooth tables design
Advertisement Ready
Price: All 74 Elegant Themes for $39
LeadSqueeze (Demo)
LeadSqueeze makes getting leads easy, because it's the first lead-capture software that combines the best technology with the best psychology. And this is a tool designed for ANYONE to set up in minutes. If you can use email or Microsoft Word® you can use LeadSqueeze.

Why LeadSqueeze?
Build Mini-Sites, Lead Capture Landing Pages, Squeeze Pages & More
60 day money back guarantee
Video Testimonial Module Plugin
Internet Wizard Online Membership
Price: $97
I hope this list helps you in picking up the best. If you ask me – what's my favorite, then I would say Premise.