jQuery Slider Shock is a fully customizable, adaptative and the most complete slider on the internet. It can be used in WordPress and also in any regular website. This slider, comes to claim a top spot in the ranking of the best jQuery Sliders.
This is a plugin set with a lot of really nice features, and now we will review them in depth.
In the era of responsive web design, this slider complies with the expectations, being completely responsive. And thanks to this it looks just great in any device. However, if you'd like to have a fixed size on your slider, you can adjust it to do so.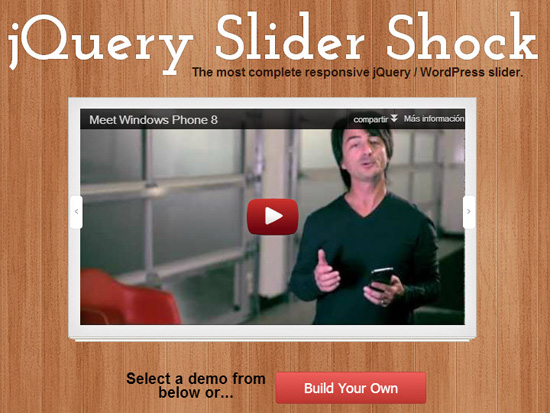 Do you think that already makes it versatile? That's not all!. The Slider Shock has more than 30 cool transition effects and also 30+ incredible skins to customize as you feel like, you can also change the appearance of titles, texts, fonts, images, colors, patterns and backgrounds, so, you can have a lot of results by combining them the way you want.
And there is more…
Supported Content Type
Let's talk now about the type of content you can place in this awesome jQuery slider. You can import external content from sites such as Youtube, Twitter, Flickr, Vimeo, Instagram, RSS, and many others; if you'd like to add thumbnails to your slides, you are free to add those at any position. It is also possible to import from several sources for wordpress: custom slides, custom post types, custom taxonomies and featured posts. You may think that this isn't enough, and you would be right, it isn't; this beautiful plugin can be placed wherever in your page, not only one instance, but as many as you want, which is simply great if you have several and different things you'd like to show using the slider.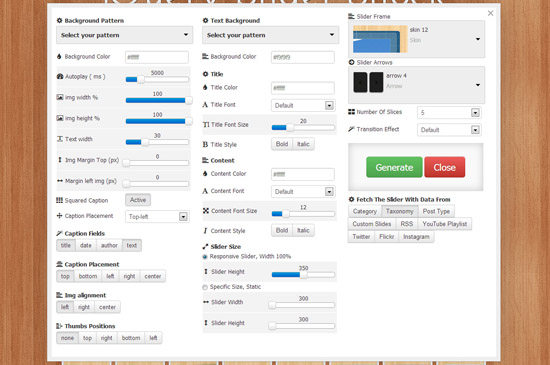 There are several license types, you will find the free jQuery and WordPress releases, for personal use, with some of the features mentioned above, or also the premium features among which you can choose the jQuery or WordPress versions or a bundle with both and the price may vary whether you choose a single site, multisite or developer license.

You can take a look on this features applied to a demo posted on its website, where using a nice dashboard you will be able to apply the different variations offered with this stunning slider, released by the team behind the fabulous WP Theme Generator.
Visit jQuery Slider Shock