Recent trends across the web have shown that more and more companies are turning to the Internet for recruitment purposes; the WWW is being recognized as an excellent place to scout for new talent that will help propel a business forward.
Similarly, greater and greater numbers numbers of young, enthusiastic would-be employees are using the Internet to find job and interview opportunities.
Huge job listing networks like Indeed, CareerBuilder, and SimplyHired own most of the market share, but several private webmasters have also been cashing in. A few popular privately owned job boards include Problogger (which averages over $1000 in autopilot revenue per week), BloggingPro, WP Hired, and many others.
In fact, the size of the online job board market has been estimated to exceed $1.68 billion worldwide. That's a whole lot of money, and you can get a chance to get a slice of the pie by building your own job board website with the WordPress Job Board Plugin.
How to Create a Job Board Website with WPJobBoard
The WP Job Board plugin is one of the most popular premium job board plugins for WordPress; it allows you to create a fully functional, well-styled job board that's useful for both employers and job-seekers.
In this post, we'll take an in-depth look at all the features this plugins has to offer.
Configuring the Plugin
The first thing to do after downloading and installing the plugin is to configure it for your site. After activation, you should be able to see two new items in your WordPress side menu.
The first menu item will be titled "Job Board" and will have the following tabs under it: Jobs, Applications, Employers, Candidates, Payments, Memberships, and E-mail Alerts.
The second will be titled "Settings (WPJB)" and will have these tabs under it: Configuration, Pricing, Custom Fields, Promotion, Categories, Job Types, E-mail Templates, and Import.
The one we'll be concentrating on for now is the Settings (WPJB) page.
There are a whole lot of configurations and customizations possible, so I'll just walk you through some of the most major ones.
Configuration:​ This is where you'll be able to edit the basic things concerning your job board.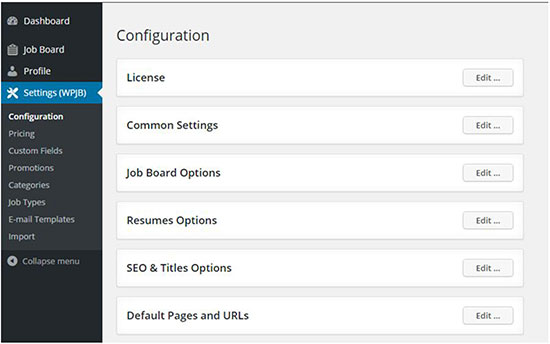 You can change the number of job offers per page, the number of days after publishing a job listing is marked as "new", the number of days after which a job listing is marked as "old", and whether or not a job listing should be hid from visitors after the position has been filled.
You can also choose to allow employers to edit their job listings. Online applications and job searches can be enabled or disabled, and you can also select who can post new jobs (users with employer accounts, users with administrator accounts, or anyone).
If you allow people other than administrators to submit job listings, then you can also choose to hold published job listings for moderation before they go live on your site.
Editing resume options is another possibility: you can hide contact info on resumes, limit visibility to specific user roles, hold resumes for moderation, and more.
Some SEO & link structure options have also been added in to help make your site more Google-friendly.
Besides all the above, several third-party integrations are possible: multiple social networks, Google APIs, reCaptcha, and a couple prominent job sites (Indeed and CareerBuilder) can all be integrated into your new job board.
You can also customize settings for the two payment methods by which you receive fees from employers who want to post jobs on your site: PayPal & Stripe are your two options.
Pricing: ​In this section, you can customize your pricing structure.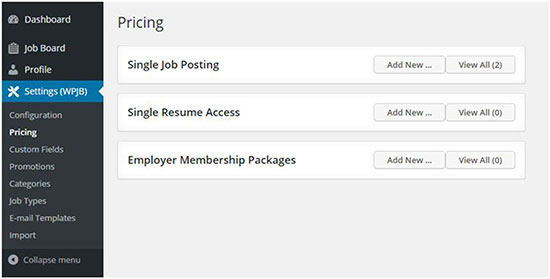 There are two main ways to make money. One, you can charge employers a set fee to post a new job or to access a resume. Two, you can create employer membership packages that allow members to access all resumes and post a limited number of job listings per month.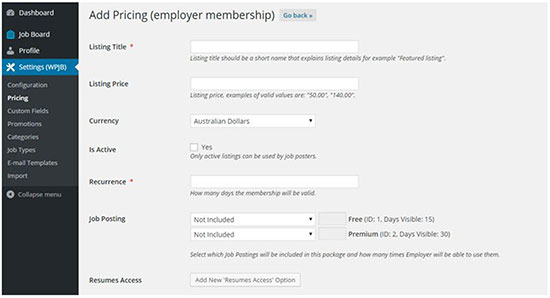 For either pricing scheme, you can specify the fee amount and currency in which the fee is to be received.
Custom fields: ​On this page, you can edit the various front end forms for job submissions, applications, searches, company registration, and resume submissions.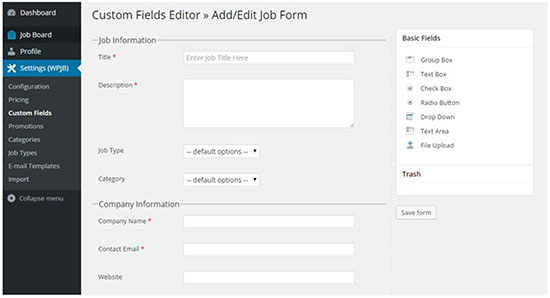 You can build each form out as you see fit. You can add required textareas like job title and description, create a dropdown so employers can choose the industry their job is in, append an area for company contact info, etc.. The possibilities are endless.
Promotions: ​This setting allows you to run discount promotions on your site. For instance, you could choose to run a 20% off discount for new premium job submissions for a 7-day period.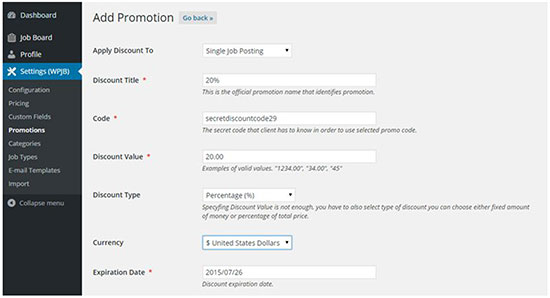 Categories: ​Here you add the different categories into which jobs can be classified (i.e. the sector or industry the job is in).

Job Types: ​You can create multiple job types to further classify your listing. A few ideas to get you started are freelance, full-time, part-time, or internship jobs.

E-mail Templates: ​Here you can choose to send several different kinds of notification emails whenever a new action has been performed on your website.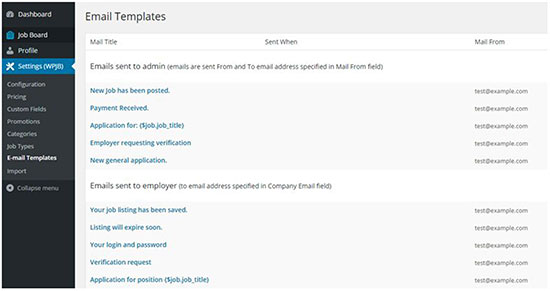 For instance, an email can be sent to the administrator when a new job has been posted, when a payment has been received, or when an employer is requesting verification.
You can also choose to send an automatic email to an employer when a new online application has been sent in, when their job listing has passed moderation, or when resume access has been granted to them.
Emails can also be sent to candidates when their application has been sent and if they are accepted.
In my opinion, this is one of the coolest features WP Job Board has to offer, as it really takes a lot of the hassle out of maintaining a job board by making things a lot more automated.
Import: ​On this last tab, you can choose to import job listings posted on CareerBuilder and Indeed on a specific keyword to a specific category on your site.

For instance, you could import all job listings from Indeed for freelance copywriting jobs posted by US employers within the last 30 days to your writing category.
Maintaining Your Job Board
Once you've gone through all the settings and configuration options available in the WordPress Job Board plugin, you should have your job board looking just as it should and ready to go.
The menu item we discussed earlier, "Job Board", deals mainly with the maintenance options for the plugin.
This is where you, as the administrator, can add, edit, or delete new job postings, online applications, registered employers, and job candidates.

You will also be able to view your payment history, the memberships employers have currently signed up for, and the e-mail alerts that have been sent.
Creating a New Job Listing
There are two different ways that employers will be able to create new job listings. The first way is to do it through the WordPress back end, and the second is to do it via the front end.
If employers do it through the back end, they will do it the WYSIWYG WordPress post editor that all of you ought to be ​very ​familiar with.
They will need to provide all the information that you required when you configured the Custom fields options in the settings page.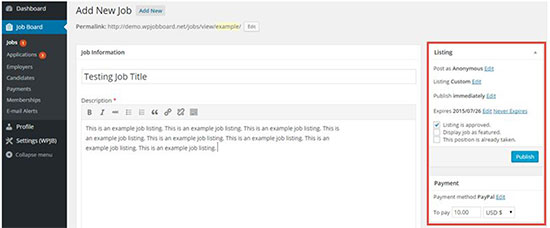 On the front end, the UI is typically much nicer (depending on the styling of the theme you have — it's recommended that you use the free​ ​WordPress Job Board Theme alongside this plugin).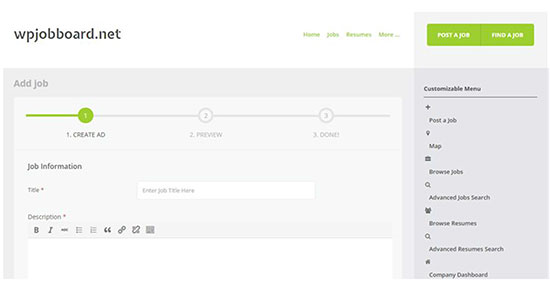 However, the change in UI won't affect the process, which is still the same. Employers will still have to enter in all the information that you require.​​​
Other WordPress Job Board Features
The WordPress Job Board plugin comes bundled in with an awful lot of cool features that will help you to extend the functionality and capabilities of your job board.
First off, the plugin has over 15 shortcodes in the system that help you to insert content related to your job board into your posts and pages. There are also 5+ widgets you can tack on to your navigational menus to allow front end visitors to easily browse your job board.
You also get a ton of documentation and first-class support. A built-in templating engine allows you to customize your site's look on the go.
WPJB is also built with Schema.org markups, which help to allow search engines to decipher your content and interpret it correctly as a job posting, increasing your relevancy in the results pages.
Finally, the plugin is also compatible with WordPress multisite and is translation-ready for those of you who'd prefer to see the UI in your native language.
Pricing & Fees
WP Job Board has a very simple pricing structure. You have two options.
The first will set you back $97; you'll be able to use the plugin on a single site, get a full year of updates & support, and get the $79 value job board theme free of cost.
The second option is a little more expensive at $199, but you get everything in the $97 plan plus the following: the license to use the plugin on an unlimited number of sites, the ability to modify the source code (extra documentation included), as well as special access to beta releases before they're available to the public.
It certainly isn't dirt-cheap, but it is excellent value for money, particularly when you consider it gives you potential to create a highly profitable website that will pay for itself many ​times over.
Wrapping Up
If you're setting out to build a job board, you can't go wrong with WP Job Board. It has all the features, functions, and integrations you could ever need, all at a reasonable price.