Get Notified for WordPress unravels the power of Facebook notifications. It allows you to send direct notifications to user's Facebook profiles right from your WP dashboard.
When you create a post type or page, you'll see a Screen Option named "Get Notified – Send notification" which allows you to notify either all your subscribers or a group of them (you can segment your users in various groups!). The design is very versatile, allowing you to pause or cancel the notification and also shows you a live progress report. See the screenshot below: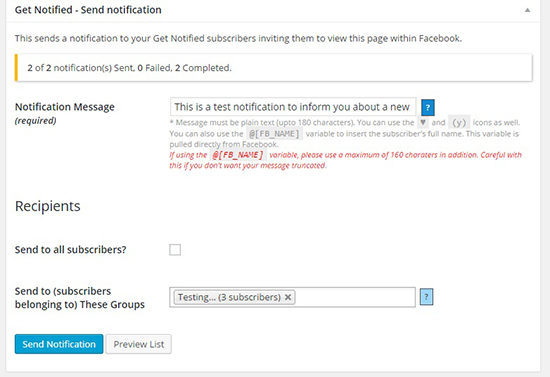 This type of engagement warrants for VERY HEALTHY open rates of 50% to 200%! How could this be? That's thanks to the novelty of the Get Notified system; it offers a direct notification right there in Facebook, where users expect to receive notifications about friends and family and their favorite brands. One the user clicks the notification, your WP post or page will be displayed within the full size Facebook canvas.
This wasn't possible before the Get Notified plugin. Powerful is an understatement; you should really check it out and try the demo!
Needless to say, we were also able to use notifications to drive massive engagement to any Facebook post of our choice by embedding the post within our WP article!
If you own a fan page, you know that organic reach is way down at the moment. If you use email marketing, you know that you can never dream of 100% open rates, let alone 200% as this plugin allows you to get!
Anybody who is in the business of capturing leads; driving traffic from Facebook either organically or with paid ads, or uses the Retargeting techniques; uses Facebook or email marketing to engage their subscribers, etc… YOU MUST DEFINITELY take a look at this plugin. It's got a little over 100 sales in just a month after it's launch and a full fledged 5 star review from all it's buyers. I myself give it two thumbs up!