The Internet is expanding at an exponential rate everyday. More and more people are trying and using the Internet and business now know that they really can't miss this boat of new users whom they can target and earn.
The World Wide Web has become more than a collection of numerous web pages. We now have smartphones and tablets that have apps on it and these apps also use the Internet to function. But even today, webpages and websites are what define the Internet. Creating a website used to be a tedious task. You needed to hire a developer if you weren't familiar with web designing yourself, you need to make sure your website worked on all the major browsers and even after that, you needed to pay a hefty amount of money for all this.
Well, not anymore.
Services like Wix.com have made it really easy for anyone to build a website themselves without any problems or all the coding works. Wix.com is a platform that even a person who is getting started with the Internet can use to create their own website.
Their new website builder is amazing and lets you build websites with ease. Let us take a look at the features of Wix.com and what it has to offer.
Wix.com – Introduction
Wix.com is an online service that allows you to create several different types of websites with their very advanced website builder. You don't have to code or even hire a developer. You get a website builder that is really easy to use and you could just go ahead and use the WYSIWYG builder to build your webpage one by one.
Wix.com eliminates the whole process of approaching web developers and then getting a quote and then negotiating with them in order to get a website developed. With Wix.com, all you need to do is sign up and get started.
How to sign-up and get started with Wix.com?
Getting started with Wix.com is really easy. All you need to do is follow the process mentioned below.
1. Open Wix.com & Sign up
Just head over to Wix.com and click the Sign in button. You will need to create an account if you don't already have one. You can use your Google as well as Facebook account to instantly create an account or you can use your email to do so as well.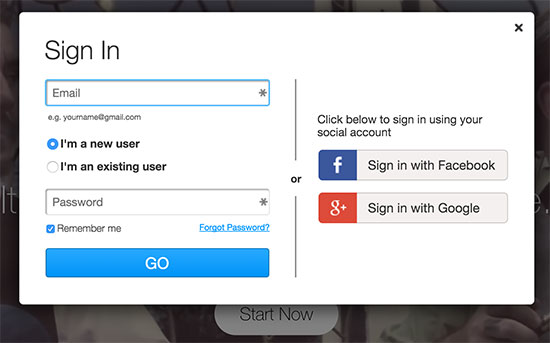 2. Choose the type of website you want
After signing up, you will be redirected to a page where you can choose the type of website you want to build. This list contains choices like blogs, portfolios, events websites and even online stores!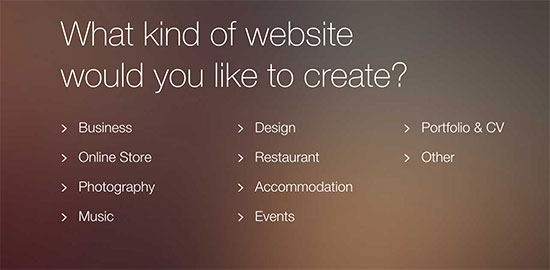 3. Choose the template
Just for demonstration purposes, I am going to create a CV website and before doing that, I need to choose a template from the available options. The number of available templates is impressive and they look really good.
You can filter out the templates with categories. All the templates are responsive by default so you have your mobile viewers covered.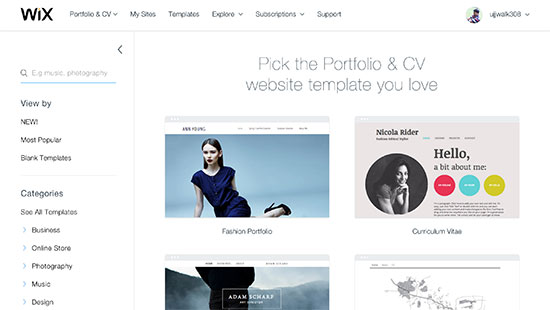 4. Choose a template and customize it!
Now that you have chosen a template, you will be redirected to a new page where you will be able to choose the elements you want to edit. As you can see in the image below, you have the options to edit text, replace backgrounds etc.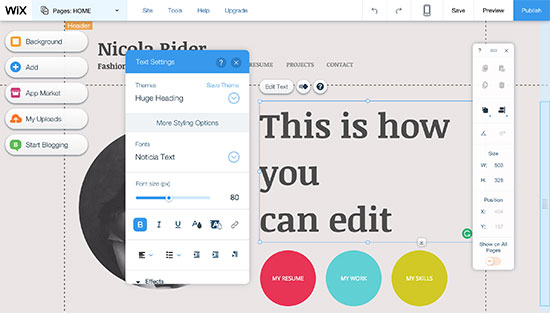 5. Use the App Market for more features
The App Market feature in the Wix.com website builder is a really nifty addition that lets you add more features. It is a marketplace for extensions for your Wix.com from where you can get extensions like comments, form builders etc. for free or by paying.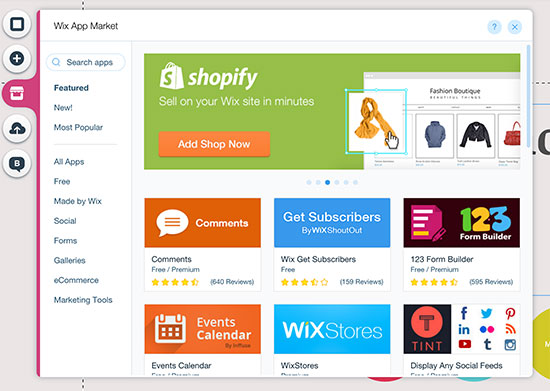 6. Publish!
As soon as you click the Publish button, you will be asked to create a URL for the page you just created. You can either have a Wix.com subdomain or you can just buy a customized domain name.
When you choose a custom domain, you can either purchase one from Wix.com or you can just set up a domain you already own.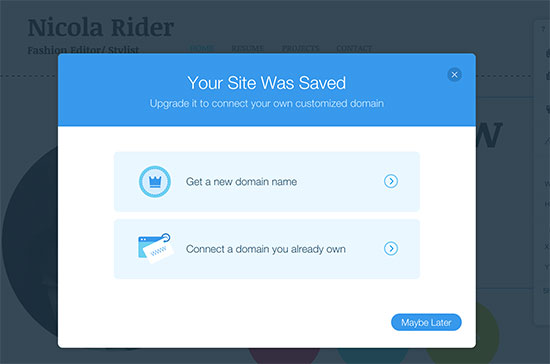 Verdict – Final word
As soon as the domain setup is complete, the website will be published and it will be viewable by public instantly. Wix.com manages the hosting so you can be assured of the uptime.
Wix.com really provides a really nice way of building a website and as you can see in the process above, you can setup a website by just choosing a template and editing it.