Magista is a free premium magazine Blogger Template from Bloggermint labs. The original base design of this theme is from Mash 2, which is one of the most downloaded template by Blogger users. So we thought of adding some elements, make the color bit brighter and given some importance to the sidebar on Magista. From the last week we are publishing our Blogger template on our templates blog – Blogger Template Hub Blog, so also following that blog everyday to see cool templates from our labs.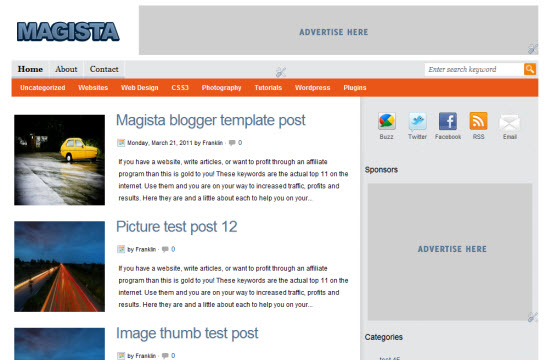 Template Specifications
Two column
Floating social share widget
Social profile widget on the sidebar
Three column footer
Ad slot ready
Widget for page
Template install instructions
Subscribe Widget
To add your profile links to the subscribe bar icons, search for <div id="subscribe"> in the template and replace your profile links appropriately.
Floating Social Bookmark Widget
Since the template uses Mashable styled floating social bookmarking bar, you need to replace the default button values with your usernames. So to change that, search for
<div="sharebox">
and replace the default profile usernames with yours (Change the twitter @mention from bloggermint to your Twitter handle).
We hope you like this template from our creative labs. Don't forget to check our Blogger template collection, we have made lots of unique templates for Blogger users.